Alaska Fishing Packages
If you have never experienced the beauty and exhilaration of fishing in the waters off of Kodiak Island, Alaska, now is the perfect time to book your all-inclusive fishing packages!
Our Alaska Fishing Packages Include:
Round-trip airfare Kodiak City to Old Harbor
Shuttle service in Old Harbor
Lodging
All meals and snacks
Soda, juices and bottled water
All bait, tackle, rods and reels
Rain jacket and pants, rubber boots
Fish processing (Up to 2-50# boxes included. Extra charge for additional fish boxes)
At least 8 hours fishing per day, last day fish for ¾ day.
Fishing Licenses
Local Taxes
Alaska Fishing Packages Do Not Include:
Commercial round-trip airfare to Kodiak
Gratuities to the staff and guides: typically 10 – 15% of the package price total.
Travel Insurance
Hard liquor, canned or bottled beer
Salmon and Halibut Fishing Packages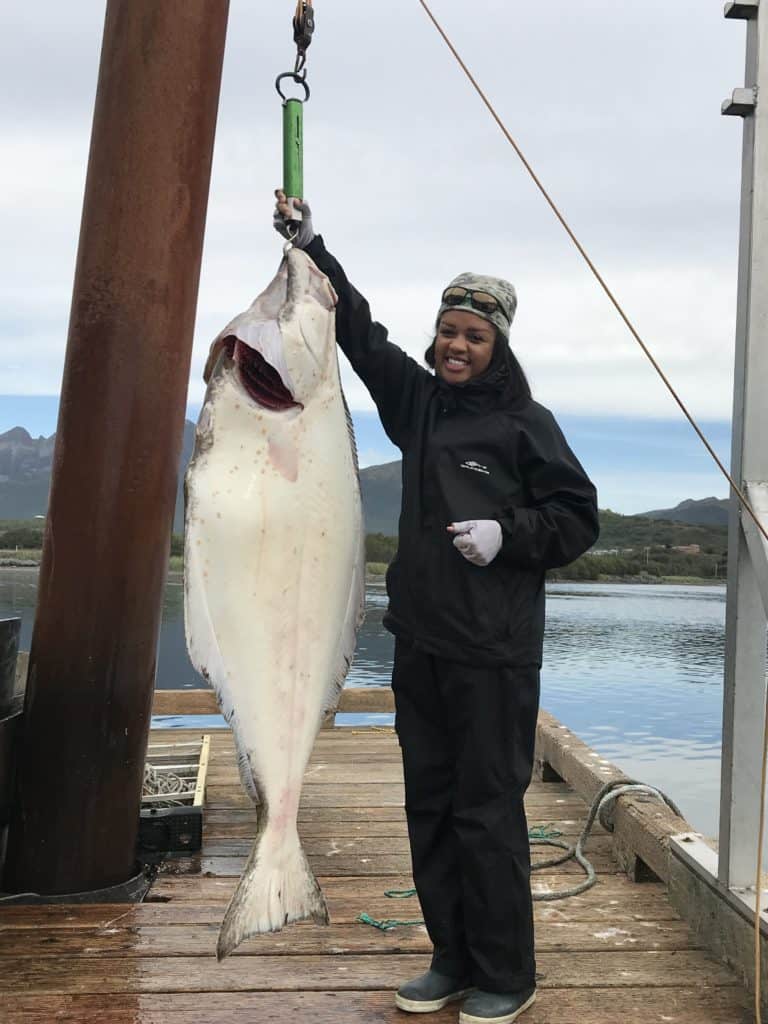 May through June is the "Trophy King" season. Thirty to ninety pound Kings feed in these waters. We will troll for Kings using down- riggers and herring bait but don't be surprised if you land a big Halibut, Ling Cod, Black Bass or Grey Cod while trolling. We call this the Trophy King Season because people come to catch the 50 pound plus King that's chrome bright and caught in the salt water.
July is one of the best months to catch a variety of fish; King Salmon, Halibut, Ling Cod, Gray Cod, Yellow Eye, and Black Bass. Along with some of the best weather in July, you will also have stunning wildlife viewing opportunities.
In August the Silver Salmon are running with an average weight of fifteen pounds. Some of the largest Silvers in Alaska are caught within 15 minutes of the lodge. The best method is trolling with the down riggers. After you catch your limit of salmon, get ready to catch some Halibut, Ling Cod, Gray Cod, Yellow Eye, and Black Bass!
September is a great month to end the summer. Not only are the silvers hot in the salt water but the rivers have some great action with the fly or spin rod. Again, you always have the bottom fish to load up your fish boxes.
Boats & Equipment for Our Alaskan Fishing Packages
At Kodiak Sportsman's Lodge, we utilize four custom-built aluminum catamarans – 26′ and 28′ long by 10′ wide. Each boat is five star Coast Guard rated, with full walk around cabins, fitted with twin engines, full marine heads, complete enclosed seating, complete electronics, top of -the line Loomis and Lamiglas graphite fishing rods, Shimano reels and all lures and bait. We have a few spinning outfits for the river fishermen, as well as a few fly fishing outfits available for use, but do not provide flies and generally recommend that you bring your own fly fishing gear. We fish 4 people per boat, with four individual downriggers and at least 100 square feet of fishing cockpit. We also have jet boats for fishing our streams. Anglers will fish at least 8 hours per day, weather permitting and all of our captains are coast guard licensed. Raingear up to size 3X and rubber deck boots up to size 14 are also provided at the lodge.
Recommended Clothing for Alaskan Fishing Packages
Layered clothing, rain hat, Thermax underwear, turtlenecks or shirts, sweater and polar fleece jackets, and Polar fleece neck gaiters are nice for windy conditions. You can go up and down with layers, depending on weather conditions. We provide rain gear and boots during your stay.
Note: We recommend that you bring only a carry-on as the lodge has washers and dryers that you can use in the evening. Your two boxes of fish are then the only luggage on your return flight
Alaska King Salmon & Silver Salmon Fishing
We troll for 30 to 90-pound King Salmon with down riggers and light tackle. The peak Trophy King Season runs from May 1st thorough July 15th, but they're here all year long.
Ten to 22 pound Silvers arrive in early July and are fished in much the same way we fish for Kings. The peak Silver Season is from mid-August into September. Load up your fish boxes with 5 Silvers per day per person! Add that to the rest of your catch and your home freezer will be FULL.
Kodiak Sportsman's Lodge offers spectacular Silver Salmon fishing for fly fishermen and spin anglers as well. Beginning Mid-August through the end of September, our fresh water creeks will provide you with more action than you have ever imagined.
Please note that river fishing requires an additional Land Use fee. Contact us for more information.
Call (844) 575-3474 TOLL-FREE to discuss your adventure!
Alaska Halibut Fishing
Halibut are available all year, although best from June 1st through mid-September. They are so plentiful that we often get them while trolling in 30 feet of water for King Salmon.
The Sitkalidak area has some of Alaska's best Halibut fishing with all sizes available in shallow (30′ to 140′) waters with very light currents. No deep-water fishing in heavy currents, with pounds of weight to get to the bottom.
Yelloweye, Black Bass, Ling Cod, and Other Species
Our area is abundant in bottom fish such as Yelloweye, Black Bass and the biggest Ling Cod you've ever seen.
Daily Limits Per Person
Daily per person limits are as follows:
2 King Salmon (May – September)
2 Halibut – total of 4 per person per year (May – September)
2 Ling Cod (July 1 – September)
5 Silver Salmon (August – September)
1 Yellow Eye (May – September)
4 Black Sea Bass (May – September)
Fish Care
The fish processor will meet you at the dock upon your arrival. Your catch will be filleted, cleaned, vacuum sealed and frozen. They will then be placed in an insulated, airline approved, wet-lock box that will be labeled and banded in preparation for you trip back home.
Over the next year you will enjoy some of the best-tasting fish you've ever had.
If you take more than two fish boxes home there will be an extra charge, please inquire at the lodge.
Deposit Required
A $1,000 deposit is due within SEVEN DAYS (FIRM) of confirmation when booking a reservation prior to the calendar year of your trip. 50% of the remaining balance is due the first week in January and the final balance due 90-days prior to arrival at the lodge.
If booking a reservation during the calendar year of your trip, 50% is due within SEVEN DAYS of confirmation and the final balance is due 90 days prior to arrival at the lodge.
Planning Your Alaska Fishing Trip
Contact us now online or call (844) 575-3474 TOLL-FREE to discuss your Alaskan fishing adventure!